Here are screenshots of the RCForb Mobile Client
(Click the picture for larger view)
Main Frequency Menu: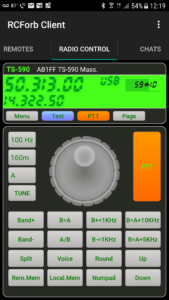 ---
The Menu Dropdown Screen: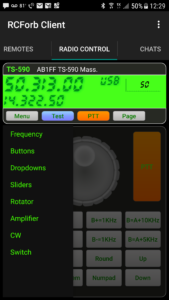 ---
The Drop-Down Selections: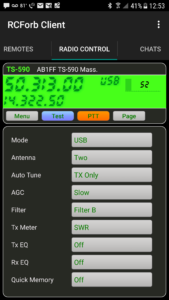 ---
The Buttons Menu: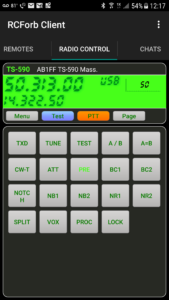 Here you can:
Transmit using TXD, TUNE activate the TS-590's internal tuner, TEST allows transmit audio without transmitting, A/B selects VFOs (A – B), A=B sets both VFOs to the frequency.
CW-T, ATT attenuator, PRE  Pre-Amplifier, BC1 Beat Cancel 1, BC2 Beat Cancel 2.
NOTCH Filter, NB1 Noise Blanker1, NB2 Noise Blanker2, NR1 Noise Reduction1, NR2 Noise Reduction2.
SPLIT Use both VFOs one for TX, one for RX, VOX Voice Operated Transmit, PROC Mic Audio Processor
---
SLIDERS Screen: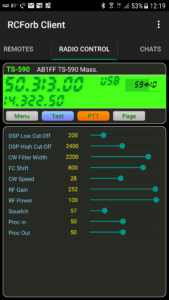 ---
Rotator Control Screen: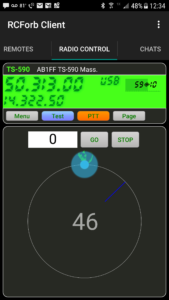 Here you may set the heading (where it says zero) and click GO.
Antenna Switch Screen: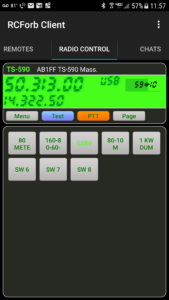 Amplifier Control Screen: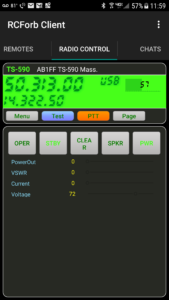 Download a PowerPoint Presentation to set up your station for remote control: